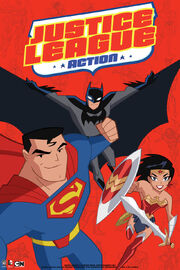 Justice League Action is the name of an animated television series made by Warner Bros. Animation, based on the superhero characters of DC Comics. It was broadcast on the Cartoon Network in the USA in a single season of episodes between December 16, 2016 and June 3, 2018, and was supplemented by a series of short online "webisodes" posted on the DC Kids Youtube channel during 2017. There has been no public announcement concerning the current status of the show so it is assumed that no further episodes are planned.
Description
The show concerns the adventures of the superheroes of the Justice League team made popular by DC Comics with the emphasis being on action and humor. The main characters are Batman, Superman, and Wonder Woman, and almost every episode includes at least one of them. The stories normally involve members in a team-up to tackle a menace that they cannot deal with individually, like a threat to the whole world, an alien threat, or a supernatural one, and involving one or more of the show's many villains. Some stories, however, involve a superhero dealing with a more local villain but assisted by other superheroes that just happen to be members of the Justice League.
Episodes
Main article: Lists of Episodes.
The Justice League Action cartoon show consists of one season only of 52 eleven-minute episodes and 22 two-and-a-half-minute online episodes.
Producers
The producers are Butch Lukic (of Justice League and Batman Beyond), Alan Burnett (of Batman: The Animated Series), and Jim Krieg (of Green Lantern: The Animated Series.) The executive producer, Sam Register, has produced Teen Titans GO! and several DC animated films.
Directors
Jake Castorena, Doug Murphy, Shaunt Nigoghossian, Curt Geda.
Writers
Jeremy Adams, Ernie Altbacker, Stan Berkowitz, Jonathan Callan, Josie Campbell, Duane Capizzi, Lauren Certo, Heath Corson, Shannon Denton, Paul Dini, Marc Guggenheim, Andrew Kreisberg, Jim Krieg, Jennifer Muro, Patrick Rieger, Mairghread Scott, Tim Sheridan, Brian Ford Sullivan, Ray Utarnachitt, Matt Wayne.
Voice cast
Main article: Category:Actors.
Familiar voices, including Kevin Conroy as Batman and Mark Hamill as the Joker, return from earlier animation shows. James Woods and Christian Slater are two of the guest stars. Casting and voice direction is by Wes Gleason.
Full list
Jonathan Adams, John Astin, Sean Astin, Jake T. Austin, Diedrich Bader, Troy Baker, Dayci Brookshire, Hannibal Buress, 'PJ' Byrne, Lacey Chabert, Gary Cole, Kevin Conroy, Jon Cryer, John de Lancie, Darin De Paul, Trevor Devall, Chris Diamantopoulos, John DiMaggio, Melissa Disney, Dan Donohue, Michael Dorn, Noel Fisher, Crispin Freeman, Gilbert Gottfried, Grey Griffin, Julianne Grossman, Mark Hamill, Ely Henry, Gillian Jacobs, Ken Jeong, Peter Jessop, Josh Keaton, Rachel Kimsey, Natalie Lander, Cloris Leachman, Natasha Leggero, Thomas Lennon, Jason J. Lewis, David Lodge, Jon Lovitz, Erica Luttrell, Piotr Michael, Max Mittelman, Jasika Nicole, Jerry O'Connell, Damian O'Hare, Patton Oswalt, Khary Payton, Robert Picardo, Laura Post, Dania Ramirez, Carl Reiner, Paula Rhodes, Andy Richter, William Salyers, Charlie Schlatter, Patrick Seitz, Armin Shimerman, Kevin Shinick, Christian Slater, Roger Craig Smith, Dana Snyder, David Sobolov, Brent Spiner, Joanne Spracklen, Peter Stormare, Tara Strong, Mena Suvari, Fred Tatasciore, Stephen Tobolowsky, Oliver Vaquer, Jessica Walter, Jim Ward, Travis Willingham, Fryda Wolff, James Woods.
Artwork
The lead character designer is Shane Glines has done similar work on animated TV shows like The New Batman Adventures and Justice League. Lead background key design is by Robert Haverland who has done similar work on the Justice League and Justice League Unlimited animated TV shows.
Music
Kevin Riepl is the show's composer and has created music for many films, television shows and video games..
Video Excerpts
Gallery